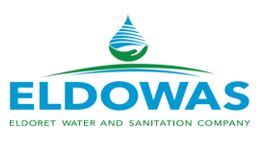 Invitation for Applicants for Vacant Positions in the Board of Directors of Eldoret Water and Sanitation Company Limited
Eldoret Water & Sanitation Company Ltd (ELDOWAS) is a Water Service Provider incorporated under Companies Act 2015 of the laws of Kenya. The Company is responsible for the provision of Water and Sanitation Services within Eldoret Municipality, Keses, O'lessos, Chebara and Moiben pursuant to the Water Act 2016.
In accordance with Article 174 of the Constitution of Kenya, to ensure the public served has an opportunity to participate in decision-making in service delivery that affects them, Uasin Gishu County Government, who is the Principal Shareholder is recruiting Seven (7) members of the Board of Directors. For eligibility, the applicants must be locals from the Company's area of service.
The Company has Seven (7) Board vacancies for representatives of the following stakeholder groups:
1. One members from the business community nominated by a registered business organization as stake-holders of ELDOWAS.
2. One member from the manufacturing community nominated by a registered manufacturing association.
3. Two members from professional bodies nominated by those bodies or any other key primary stakeholder that is of equivalent value to the professional body.
4. One member from consumer residential association nominated by a residential association
5. One representative from a women organization nominated by any women organization that is registered.
6. One member from a religious organization nominated by a registered religious organization.
For details on the application procedure, interested candidates should visit the County and Company's websites www.uasingishu.go.ke and www.eldowas.or.ke
Eligibility Criteria Documents (Download)
Applications should be either hand delivered sealed in a plain envelope indicating "APPLICATION FOR BOARD OF DIRECTOR ELDOWAS" and addressed to the under-signed or emailed to cpsb@uasingishu.go.ke
All applications should be received no later than Tuesday, 7th November, 2023 at 5:00 p.m. at Uasin Gishu County Government Offices. The successful candidates will be required to provide Chapter 6 documents on leadership and integrity. Details of the minimum requirements are obtainable at County Government of Uasin Gishu and ELDOWAS websites.