ELDOWAS is a corporate entity established under Cap 486 of the laws of Kenya. The County Government of Uasin Gishu is principal shareholder. ELDOWAS Board of Directors comprises of 9 Directors who represent the interest of various stakeholders.
ELDOWAS was the first water service provider in Kenya to attain certification in international Quality Management Standards ISO 9001:2008. In order to achieve its goals and objectives the company recognizes the need to effectively serve the customers and has developed a Customer Service Charter. The Company has continuously embarked on the application of the Customer Service Charter and services expected of us by our customers. The standards provided are a measure of our performance as we interact with our esteemed customers. We ensure that the Customer Care Desk is operational and within reach of customers. Similarly, feedback from customers will be in focus to continual improvement of service.
ELDOWAS Management is organized in four departments. The Technical Department is responsible for water sources development, water abstraction, treatment and distribution. The Commercial Department is responsible for billing, revenue collection, and customer relations management. Finance Department is responsible for financial management and the Administration Department deals with staff matters and the smooth running of the company.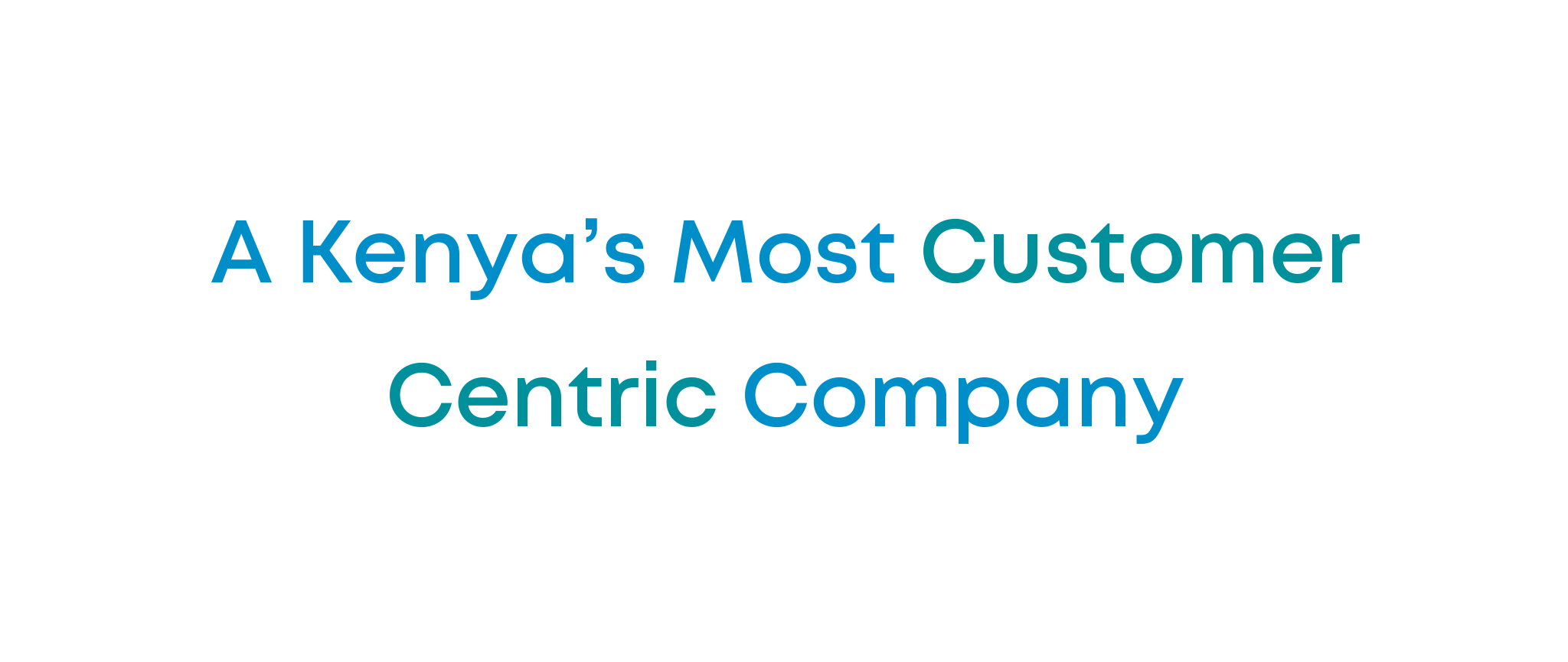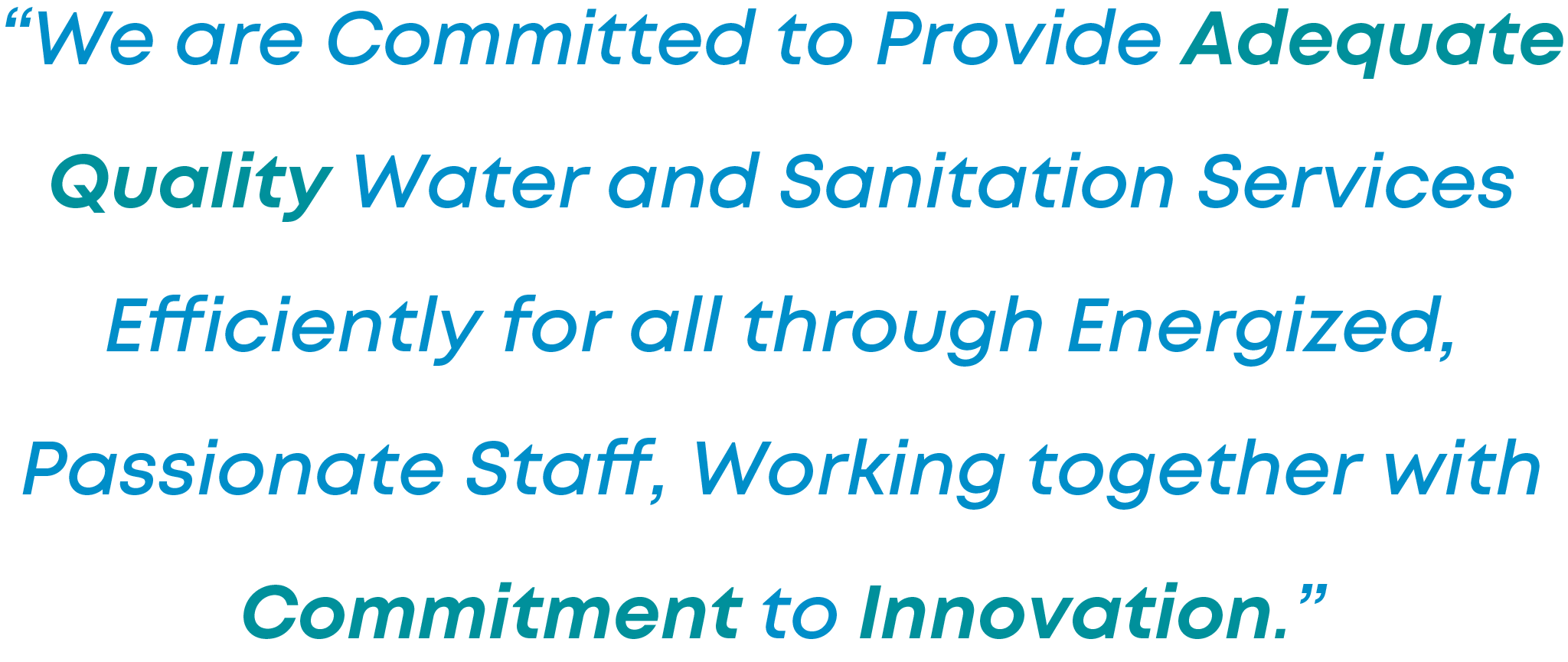 Eldoret Water and Sanitation Company Limited (ELDOWAS).is a corporate entity established under the laws of Kenya. Incorporated in October 1997 under Companies act (CAP 486 Laws of Kenya), the company started operations in the year 2000; its principle shareholder is the County of Uasin Gichu. ELDOWAS is mandated to provide water andsanitation services through a licensing agreement by WASREB.
 The Eldoret Water and Sanitation Company Limited is committed to provide adequate potable water and safe wastewater disposal services within its area of jurisdiction.
This shall be achieved by: 
Providing products and services that meet the needs and expectations of its customers and other relevant interested parties;
Attracting and retaining highly skilled and motivated staff;
Solidifying and sustaining financial base to enhance prudent Infrastructural expansion;
Continual improvement of a Quality Management System modeled on the ISO 9001:2015 International Standards;
Complying with applicable statutory and regulatory requirements;
Reviewing quality objectives on annual basis;
All our customers are expected to;
Pay your bill promptly.
Facilitate access to meters for proper readings, maintenances and inspection of supply line.
Report any leakage/burst of water, sewer blockages and vandalism of company facilities.
Avoid illegal usage of water and sewer facilities.
Customers shall maintain their sewer lines within their premises and any request to Eldowas to undertake the maintenance shall be at their own cost
Provide all up to date personal information or otherwise request by the company.
Treat company staff with courtesy.
Maintain water facilities after the meter point to avoid loss of water and practice rational use of water.
Not to compromise Company staff.
Ensure the meter is well secured.
Formalize change of residence and termination of contract.
Water Sources and Water Quality
Water Treatment Processes
Raw water abstracted from the sources is treated at the water treatment plants to remove sediments, bacteria, and other impurities through conventional water treatment processes – Aeration, coagulation, flocculation, sedimentation, filtration and disinfection. After the final treatment, the water leaves the treatment works and is stored in contact tanks before being released to the distribution network.
Water Distribution
The clean water is then released through our network of pipe linescomprising of various sizes of pipeline ranging from 600mm diameter steel pipes to 12mm diameter uPvc pipelines that deliver water to our customers.
Quality Assurance
To ensure that the quality of water supplied to the consumers to meet the required standards, the company has a quality assurance section whose mandate is to collect and analyze samples from designated points within the distribution network. The results of the analysis are compared with the KEBS and WHO standards for compliance.
The company abstracts and treats water from four water sources with the capacities as shown below:
| | | | | |
| --- | --- | --- | --- | --- |
| Source | Max. capacity m3/day | Treatment Plants | Current Capacity M3/day | Areas Served |
| Ellegrini River Intake | 3,450 | Kapsoya T. Plant | 3,450 | Eldoret Municipality and its Environs |
| Two Rivers Dam | 14,950 | Sosiani T. Plant | 14,950 | Eldoret Municipality and its Environs |
| Moiben Dam | 26,000 | Chebara T. Plant | 26,000 | Eldoret Municipality and its Environs including communities along the Chebara pipeline |
| Ellegrini Dam | 9000 | Currently serves as a reserve for Sosiani T Plant | | |
| Kesses Dam | 600 | Kesses Treatment Plant | 600 | Kesses and Lessos |
Andrew C. Saina

Chairman

He has Diploma in Business Management from Moi University and is currently the Chairman of the Board of Directors. He was appointed to the Board to represent Business Community in line with WASREB guidelines and has over 10 years' experience as an Entrepreneur. He also has a wide range of knowledge in business environment.

Ambrose K. Tarus

Member

Chief Officer- Water, Sanitation, Energy, Environment, Natural Resources & Climate Change; sits in the Board representing the County Government of Uasin Gishu in line with WASREB guidelines

Eliud Chemaget

Member

Chief Officer- Finance & Economic Planning; sits in the Board representing the County Government of Uasin Gishu.

Zipporah Cheruiyot

Member

She has Higher Diploma in Human Resource, Bachelor of Education degree from University of Nairobi. She is a Board Member representing the professional bodies in line with WASREB. She has over 20years of experience shaping the strategic direction and brand positioning for organizations both in Government and Private sector including her own venture, Tumaini Greenfields Schools.

Jane Cheruto Tanui

Member

She has Master of Business Administration Strategic Management Option, Bachelor of Business Management Human Resource Option Moi University. She is a Board member representing Business Community in line with WASREB guidelines. She has over 20 years working experience in the Human Resources

Mahamoud Kiplagat

Member

He has Diploma in Public Administration from Moi University. He is a Board member representing resident Organization of Kipkenyo in line with WASREB. He 5 years leadership and Administration experience as elected Councillors for Eldoret Munincipal Council and over 8 years working experience as a supervisor in MEA general stores and Nyangmet Co-operative society

Dr. Victoria Kutto

Member

She has a PHD in Communication Studies, Master in Philosophy in Education Communication and Technology and Bachelor of Education in English and Literature from Moi University. She is a Board representing resident Organization in line with WASREB of Chebara and has over 25 years' experience as an educationist and administrator. She is also Director in Emerald Green Consultants Ltd and Director COVESCODE CBO
| | |
| --- | --- |
| Mr. Julius Lagat | ICT Manager |
| Mr. Pascal Onyango | Ag. Commercial Manager |
| Mr. Timothy Kiptala | Finance Manager |
| Mr. Edwin Mengich | Quality Assurance Manager |
| Mr. Denis Koech | Internal Auditor |
| | |
| --- | --- |
| Miss Sheila Arusei | Customer Service & Marketing Manager |
| Mr. John Kebenei | Supply Chain Manager |
| Dr. Ruth Tuwei | Human Resource and Admin Manager |
| Mr. Lawrance Sum | Manager Water, Distribution & NRW |
| Mr. Joseph Maiyo | Manager Operation |