ELDOWAS is proud to be a member of the UN Global Compact network. This achievement will not only catapult the company into becoming a recognized global brand but will also connect ELDOWAS to a range of corporate development programmes offered by the network. According to the UN Global compact, corporate sustainability starts with at the least, operating in ways that meet fundamental responsibilities towards human rights, labour, environment and anti-corruption. ELDOWAS therefore has aligned its vision, mission and core values as well as its strategic plan towards achieving long term success towards the goals.
Further, through its mandate, ELDOWAS is implementing the sustainable development goals (SDGs) especially SDG No. 6 and 11 on universal water and sanitation coverage and sustainable communities and cities as premised in ELDOWAS mantra; enhancing quality of life which does not only take into account the availability and accessibility of water to all residents in its area of jurisdiction, but also, the effects of waste water services on the environment by ensuring that the quality of effluent being discharged into the environment meets the required standards as well as putting in place environmental conservation measures to better support a clean, secure and sustainable environment as envisioned in Kenya vision 2030.
The Managing Director Eldoret water and Sanitation Company Limited (ELDOWAS ) Mr. Peter Arap Biwott receives a certificate of Membership from the UN Global Network Compact Kenya, Ms Judy Njino in their Nairobi offices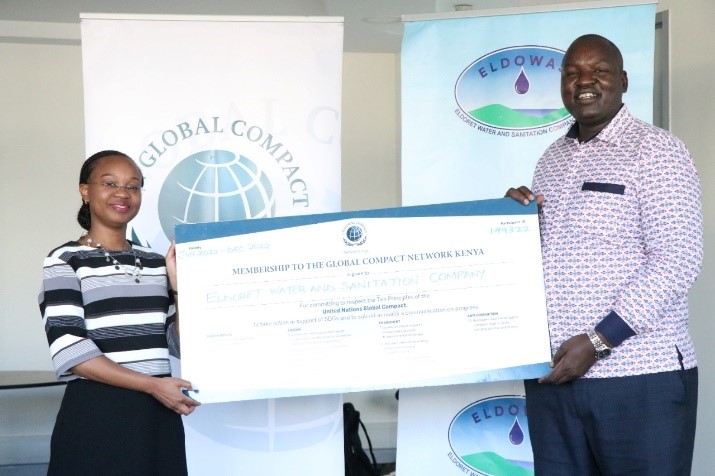 ELDOWAS Company is devoted to associate itself with networked bodies worldwide thus receiving a membership award from The Global Compact Network Kenya aimed at setting goals and tracking their sustainability progress, validating the business case for aligning their business practices with the Ten Principles and the Sustainable Development Goals businesses in every community and country addressing climate adaptation, or broadening efforts to address social equity gaps.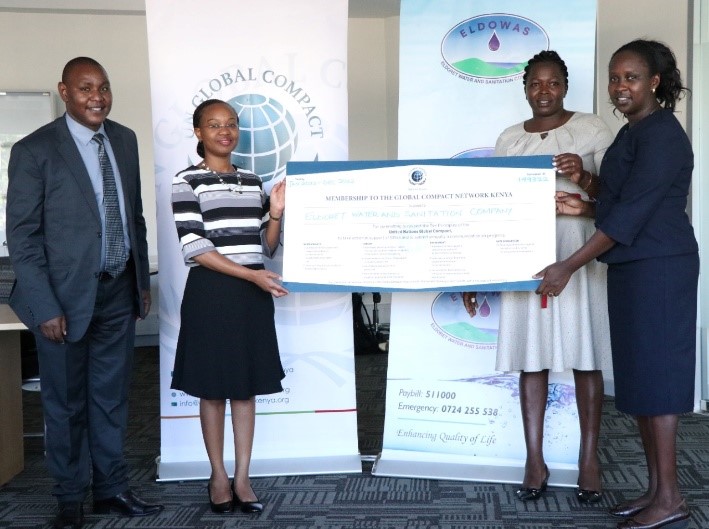 For more Details on UN Global Compact